Taylor Swift has fuelled rumours and potentially hard-launched her new relationship with NFL star Travis Kelce.
The pop queen was seen at a Kansas City Chiefs game against the Chicago Bears, sporting the team's red and white colours and pictured alongside his mother.
In her RED era@taylorswift13 @chiefs pic.twitter.com/WBC1ojI2oD

— NFL (@NFL) September 24, 2023
Article continues after this ad
Advertisement
Now, things seem pretty serious if you're watching your potential new boyfriend play football with his mother.
It seems fans got wind of the rumoured new romance, with some holding signs alluding to the new couple.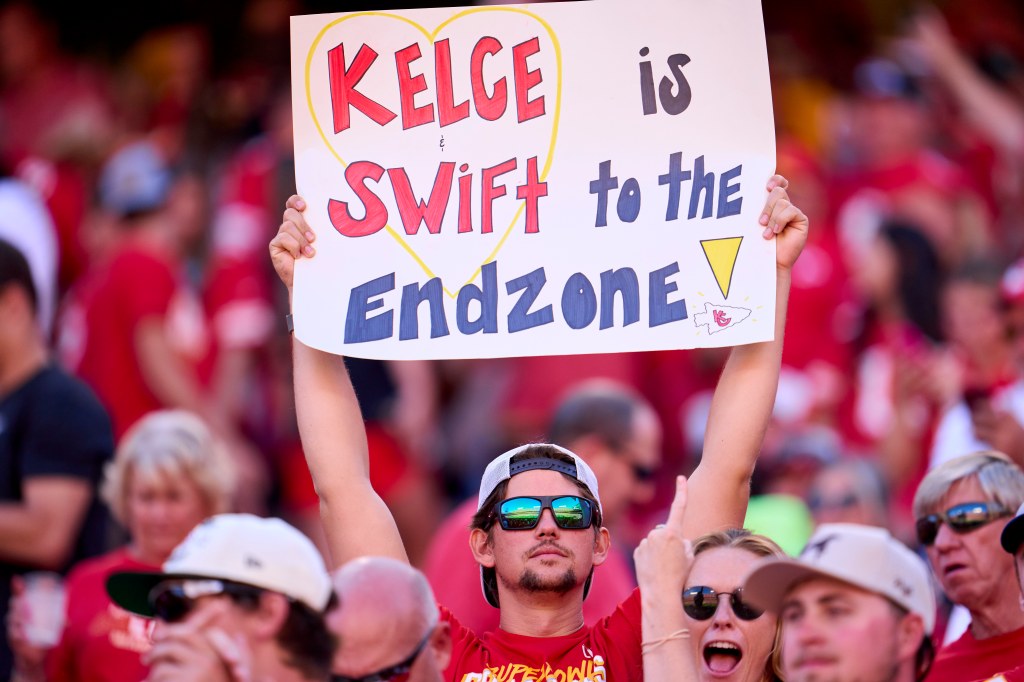 The rumours started when Travis Kelce opened up on his podcast New Heights about attempting to give Taylor Swift his number when he attended the Kansas show on her Eras World Tour.
"I was a little butthurt that I didn't get to hand her one of the bracelets I made for her. if you're up on Taylor Swift concerts there are friendship bracelets." he explained back in July.
"I wanted to give Taylor Swift one with my number on it. She doesn't meet anybody — or at least she didn't want to meet me. So, I took it personal."
Article continues after this ad
Advertisement
The 33-year-old sports star recently revealed that he'd invited Taylor to attend one of his games on the Pat McAfee Show last week.
"I told her, 'I've seen you rock the stage in Arrowhead, you might have to come see me rock a stage at Arrowhead and we can see which ones a little more lit,'" he explained.
It seems that maybe Kelce's charming moves may have worked, or at least they seemed to if he got Taylor to the game and watched with his mother!
"She thinks he is very charming, and they have been texting this last week. He is a little embarrassed at how much attention they are getting, but he has told her he would love to continue seeing her." a source told the Messenger Wednesday
Article continues after this ad
Advertisement
Listen to Taylor's rumoured new BF's podcast 'New Heights' with Travis Kelce and his brother Jason below on iHeart Radio!