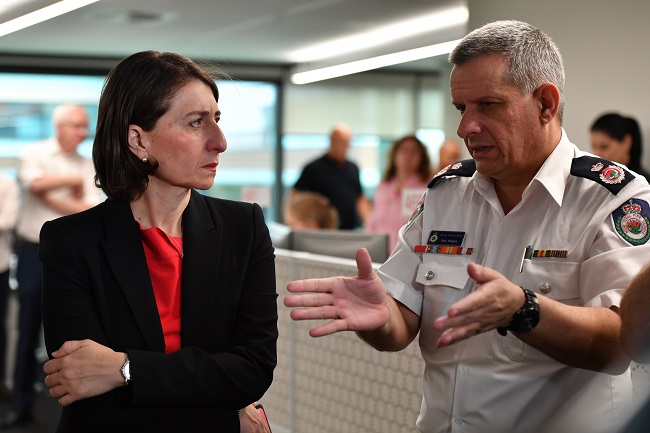 NSW Premier Gladys Berejiklian listens to RFS Deputy Commissioner Rob Rogers before a press conference at Rural Fire Service (RFS) Headquarters in Sydney, Sunday, January 5, 2020. (AAP Image/Paul Braven)
A man is dead and hundreds of properties are feared lost after the latest day of "awful" bushfires swept through NSW in extreme and dangerous conditions.
The 47-year-old man died of a cardiac arrest on Saturday night while defending a friend's rural property near Batlow, southwest of Canberra.
There were just under 150 bushfires burning in NSW on Sunday morning, with emergency warnings issued for blazes in the southern highlands and on the south coast near the NSW-Victoria border.
Early reports indicated hundreds of properties had been damaged or destroyed after bushfires tore through NSW on Saturday, NSW Rural Fire Service Commissioner Shane Fitzsimmons said.
"It was an awful day yesterday. It was a very difficult day," he told reporters at RFS headquarters on Sunday morning.
"We are getting reports that the property losses, the damage and destruction, is likely to be numbering in the hundreds as a result of yesterday's fire activity and fire spread.
"We're talking a considerable number, a considerable impact."
There were reports of properties being lost in the southern slopes, the NSW south coast and the southern highlands regions.
The 47-year-old man who died had travelled down from Goulburn to help a friend in Batlow, Mr Fitzsimmons said.
Thirteen bushfires burnt at an emergency level on Saturday.
"That's second only to what we saw a couple of months ago, where 17 concurrent fires were burning (at emergency level)," Mr Fitzsimmons said.
Although fire weather has eased on Sunday, conditions remained "volatile" and dynamic at a number of fire grounds, Mr Fitzsimmons added.
Two emergency warnings remain in place.
NSW Premier Gladys Berejiklian said as of Sunday morning there were no people missing in the fires.
"That's a huge relief. Our mission yesterday was to save life. Our mission during the night was to save human life," she told reporters.
"That's not to say we don't get bad news during the day, but indications at this stage there's no unaccounted people in NSW. That's the best news we could have hoped for this morning."
Two firefighters suffered smoke inhalation overnight while protecting water infrastructure in the south coast town of Milton.
A statewide total fire ban is in place on Sunday while a week-long state of emergency - the third in as many months - continues.
Prime Minister Scott Morrison was on Sunday criticised for not alerting fire authorities before announcing the defence force would be deployed to help bushfire recovery efforts.
NSW Rural Fire Service Commissioner Shane Fitzsimmons said he was disappointed about the lack of notice and expressed concern to the prime minister's office and received an apology.
© AAP 2020