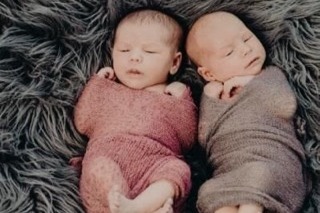 Violet and Indiana in happier times. Image Credit: GoFundMe
Money is being raised for the family of the twin girls who died in Brisbane last week.
It is believed Violet and Indiana were sleeping side by side when one passed away at a home in Sunnybank Hills. Her sister died in Hospital.
Family friend Kieran Garratt has created a GoFundMe page to help the family cover funeral costs.
The six-week old babies leave behind a big sister, big brother and their heartbroken parents according to the GoFundMe page created in their honour.
Plenty of people have shared the GoFundMe page on Facebook.
So far, more than $8,500 has been donated but the target is $20,000.
By Michelle Brewer