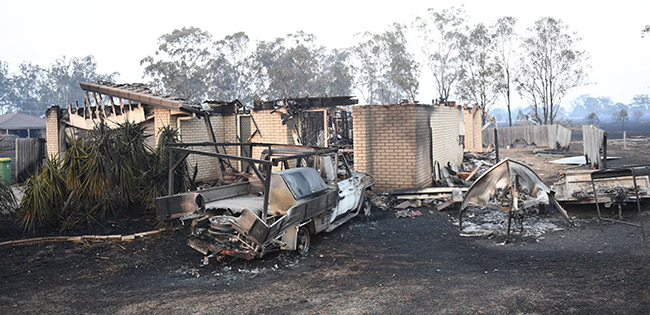 A burnt down house is seen in Laidley, southeast Queensland, Wednesday, October 9, 2019. (AAP Image/Scott Davis)
Fire crews have all but extinguished a "fast and furious" blaze that destroyed one home in southeast Queensland.
The flames that ripped through Laidley, in the Lockyer Valley west of Brisbane, on Tuesday afternoon are out, but burnt out logs are still smouldering.
The inferno flared up with little warning, catching firefighters by surprise as they were busy attending a fire at nearby Thornton.
The Laidley fire burned right up to the fence line in one subdivision.
One family's home was destroyed, the fierce flames melting a boat and ute in the yard.
Lockyer Valley Mayor Tanya Milligan was monitoring other fires in the region when she got a phone call asking if she knew the fire was in her street.
She said she quickly arranged for her pets to be collected, and will return home on Wednesday morning to assess the damage.
"I'm guessing it will be full of soot and will be a bit of a mess and will stink," she told ABC radio.
"It was fast and furious and somewhat hectic."
She praised the efforts of emergency crews.
"We're really blessed that we only had one loss of one home," she said.
"It certainly could have been a lot worse."
Twenty fires are still burning across the state, with cooler temperatures easing conditions.
Fire crews are still battling a blaze at Glen Rock in the Lockyer Valley, with some residents who were evacuated on Tuesday still unable to return home.
No properties have been damaged there.
© AAP 2019