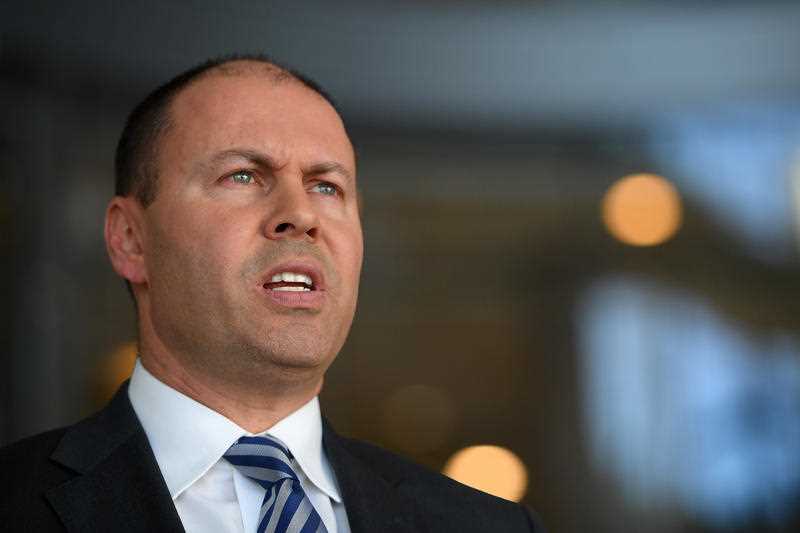 Federal Treasurer Josh Frydenberg has urged Australians to spend cash in the bush during "the worst drought in living memory" (AAP Image/Dan Himbrechts)
Federal Treasurer Josh Frydenberg has urged Australians to spend cash in the bush during "the worst drought in living memory" as he tours regional communities hardest hit by dry conditions.
But he's indicated his three-day tour of northern NSW and southern Queensland isn't likely to contain immediate support announcements beyond a $100 million package announced last week.
Mr Frydenberg is visiting affected regions with Drought Minister David Littleproud, kicking off Thursday in the NSW town of Inverell before heading to Stanthorpe in Queensland.
Pleased to join @D_LittleproudMP & @Barnaby_Joyce in Inverell to listen to the community's stories about the devastating impact the drought is having & discuss how we can continue to help families and businesses through this challenging period. pic.twitter.com/ilHXgw8jGp

— Josh Frydenberg (@JoshFrydenberg) October 2, 2019

"It's certainly the worst drought in living memory," he told Sky News.
Treasurer @JoshFrydenberg has described the drought as "the worst in living memory" after touring drought-affected parts of the country and witnessing its devastating impact on farmers and businesses. https://t.co/pQOh9IyJuw

— Sky News Australia (@SkyNewsAust) October 2, 2019

He heard stories of devastation on his first day in Inverell, with shops closing, farmers de-stocking and families hurt.
"It's really a good opportunity for me to come here first-hand and hear these stories, and to talk through ways the government can help."
Mr Frydenberg pointed to the Farm Household Allowance and $1 million grants for more than 100 drought-affected local councils as key support measures.
"We'll continue to do more, because these communities are hurting very, very badly," he said.
On Wednesday, he urged people in cities to help stimulate regional economies.
"If people can take a trip to these areas, spend money in these communities and back those small businesses, then that will be important to them staying on their feet," he told reporters.
MPs in drought-affected areas are encouraging colleagues to spread the message far and wide to boost tourism in regions where farmers' pain was being felt in local economies.
Labor has criticised the coalition for pointing to $7 billion as the headline figure for drought measures.
The bulk of that money - $5 billion - is in a future fund not expected to rise to that figure until 2028/29.
But there's a range of other support on the table, which the government says is demand-driven, while other measures are about guarding against future droughts.
© AAP 2019